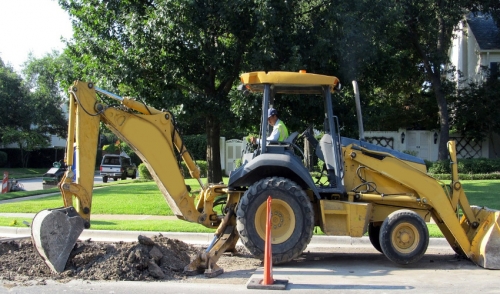 A long time ago when I was a kid, my brothers and I tried to build a pool in our backyard. You can imagine us in the Georgia heat with two shovels trying to dig away things didn't go too well. After two days on the project we officially gave up and our dad repaired the yard the very next day. That pool could have possibly changed our entire summer and maybe our lives had we been better prepared. Looking back the real reason why the pool didn't work is because we didn't have the right digging equipment. Not to mention our mom probably planted the idea in our heads just to get us out of the house. Pool excavation is tough and requires the proper tools and knowledge before any digging can commence.
In this article we will cover the basics of excavating a pool from start to finish. Before digging a pool, make sure to find the right spot. Pick a spot in your yard that has plenty of sun, is high and dry, far away from sewer lines or electrical cables, and can accommodate accessories. Make sure to also call the 'Before You Dig' Hotline to make sure there isn't anything important underground that can be damaged while digging. Once you know where the pool is going to go, now its time to start compiling the equipment. To excavate your own pool you will need to rent a skid steer with a backhoe attachment, shovels, rakes, pick axe, sledgehammer, transit level, and a wheelbarrow. Make sure to have all of these items on hand while digging. Depending on the size and depth of the pool a skid steer may not be required. If you're building a smaller pool or looking to save a few extra dollars, feel free to soak up some good old-fashioned manual labor and start digging with a shovel. Skid steers are great because if needed you can also rent additional attachments such as a drill to help you complete your project. To give your pool its shape around the corner and edges, you should use your shovel and rake. These two items in conjunction with your wheelbarrow will also help to remove excess dirt. Speaking of excess dirt be mindful of how much dirt actually comes out of your excavation efforts. In cases like these it may be more helpful to have a skid steer on hand to efficiently transfer dirt to a pile in a corner or into a truck or waste unit so that it can be hauled off and disposed of properly. In addition to the excess dirt, be prepared for hitting gravel while digging and the damage the project might do to your yard. It might be easier to remind yourself that grass always grows back. Finally, when you're done digging, fine tune the shape of the pool and begin grading the ground.
Digging the hole for the pool is one of the hardest parts of the project. With the right digging equipment, you can complete it in less than a day and move on to framing the walls. It may all sound like hard work now, but it will get better when you and your family are playing and relaxing around the pool this summer.